I'm thrilled to announce that my coin design work will soon touch two countries: Canada (where I currently live) and – in 2017 – the United States (where I was born and spent the first 30 years of my life). I'm a proud dual citizen and I feel honored that my work will become a small part of the numismatic history of both countries.
My first coin design for the US Mint helps commemorate the 100th anniversary of Boys Town, a remarkable place in Nebraska with the motto "Saving Children, Healing Families." Last fall, as part of my research for the coin design, I visited Boys Town for a tour. The facilities are noteworthy and include a museum, a high school, a chapel, administration buildings, a research hospital, housing, athletic fields, and more. Numerous trees make for a peaceful and lovely setting reminiscent of a university; I felt they significantly contributed to a sense of community. What made the biggest impression on me, however, were the stories I heard.
Boys Town staff related some surprising and compelling statistics about the children and families they seek to help. By far the most memorable aspects of getting to know Boys Town were the first-hand accounts of its positive impact from some of the youths there to get their lives back on track. These stories pulled at my emotions and I believe they had a role in my design process.
In addition to this being my first U.S. coin design, it's also the first coin for which I've designed both the obverse (heads) and reverse (tails). The assignment requested two designs that were clearly meant to be a pair, with similar design elements on each side and a cohesive story between them. Sometimes, design ideas come easily and a final version falls into place without much difficulty. In this case the compositions emerged only after much struggle. Perhaps the main reason I discarded so many earlier drafts was that their emotional impact didn't measure up to what I had experienced at Boys Town in person.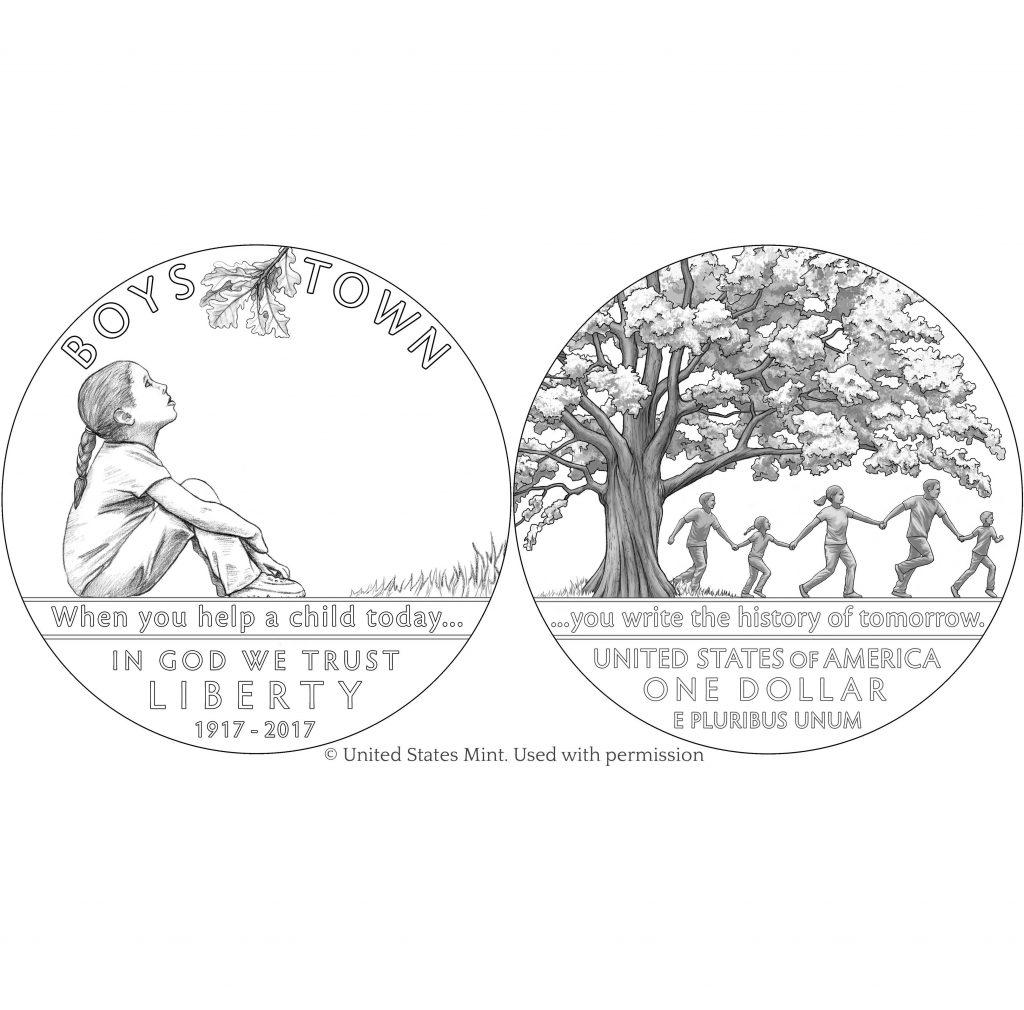 From the U.S. Mint's website, the coin descriptions are:
Silver Obverse
Designer:  Emily Damstra
Engraver:  Joseph Menna
Description:  Features a young girl sitting alone and gazing upward into the branches of an oak tree looking for help. The empty space around the girl is deliberate and meant to show the child's sense of loneliness, isolation, and helplessness. Inscriptions include "BOYS TOWN," "When you help a child today…," "IN GOD WE TRUST," "LIBERTY," and "1917-2017."
Silver Reverse
Designer:  Emily Damstra
Engraver;  Joseph Menna
Description:  Features an oak tree offering shelter and a sense of belonging to the family holding hands below it, which includes the girl from the obverse. Inscriptions include "…you write the history of tomorrow," "UNITED STATES OF AMERICA," "ONE DOLLAR," and "E PLURIBUS UNUM."
When I eventually drew the child sitting on the ground, surrounded by empty space and looking up toward the oak branch, the illustration finally represented how I imagined a child might feel at a point in her life when she really needs the kind of support Boys Town offers. The reverse is an image of how one might feel as a member of the Boys Town community; connected, sheltered, and nurtured. I envision the obverse and reverse designs to represent "before" and "after" respectively – before and after Boys Town, that is.
On both sides, I use an oak tree to symbolize Boys Town. Trees in general share some key attributes with Boys Town, such as being rooted in the community, offering shelter and support, and reaching far from where planted. They symbolize growth and resilience and even family (when one thinks of a "family tree.") I chose an oak tree in particular because oaks symbolize strength, and the shape of a mature oak was a perfect fit.
Lastly, I intended the pair of designs to represent the future. The founder of Boys Town, Father Flanagan, said: "When you help a child today, you write the history of tomorrow." That inscription is the perfect summary of how Boys Town makes its mark on the future.
The United States Mint will produce three different coins commemorating Boys Town; a gold, a silver (above), and a clad coin. These will be available in 2017. See the others and read more here.